Bowman's Swimming Pool Heat Exchangers
Welcome to our range of British made Bowman's swimming pool heat exchangers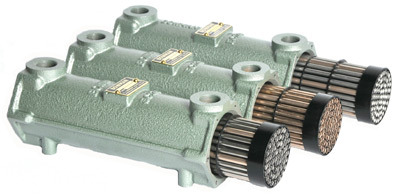 Which type do I need? Cupro Nickel, Stainless Steel or Titanium
Cupro Nickel
Bowman's Cupro Nickel heat exchangers are suitable for both chlorinated and salt pools. Like all Bowman's heat exchangers they're reliable and will provide years of service provided the PH balance of the pool is maintained correctly. Maintaining PH balance is essential for the good health of any swimming pool. The Cupro Nickel heat exchanger is still the most popular and best selling model, in most cases this is the one we would recommend.
Stainless Steel
Bowman's stainless steel heat exchangers are strictly for chemically sanitised pools and must not be be used on salt pools. Tougher than Cupro nickel providing years of use and not critically damaged if PH levels are off for extended periods.
Titanium
Bowman's Titanium heat exchangers are for just about any type of swimming pool, titanium being immune to the most corrosive effects even that of sea water. Bowman's offer a 10 year warranty on these heat exchangers, in reality they're pretty much indestructible.
I know how big my boiler is so what size heat exchanger do I need?
If you have 240 BTU boiler then a 240 heater exchanger is fine, however if you had say 250 BTU boiler you must go for the bigger size heat exchanger which might be the 340 BTU. You can always have a higher rated heat exchanger than that of the boiler, but not the other way round. Also if you thought at some point in the future you might be investing in a bigger boiler then there's every reason to buy a bigger heat exchanger even though your existing boiler is small.
Heat exchangers must have Bronze ends to be used with a saltwater pool/spa
For advice on Bowman's heat exchangers just call us on 0151 334 0222
To buy a Bowman Swimming Pool Heat Exchanger head to our sister site click here
Digital Thermostat

For use with Bowman Heat Exchangers

Thermostat

Product Code

Description

Price

HCR-151-0503

Bowman Digital Thermostat