Welcome to our Vulcan electric swimming pool heaters by Elecro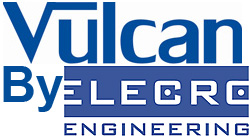 Here you will find everything you need for an electric swimming pool heater
Elecro Vulcan heaters are known worldwide and come in both analogue & digital
Vulcan Elecro Analogue Pool Heater
Easy to install and of an enduring, sturdy build, the Vulcan Elecro analogue pool heater is a no nonsense, reliable heater available with either titanium or incoloy heating elements (titanium models make this product suitable for use in salt water pools).

Supported by safety and equipment protection (thanks to a reversible, steadfast flow switch) as well as a thermal cut out that protects against over-temperature, the Vulcan Elecro analogue pool heater is worry free and endlessly trustworthy.

Swivel feet support mean that this Elecro pool heater can be rotated to permit either wall or floor mounting, whilst a thermostat dial positioned on the front of the heater also means that you can control the temperature on your Elecro pool heater with simplicity and ease.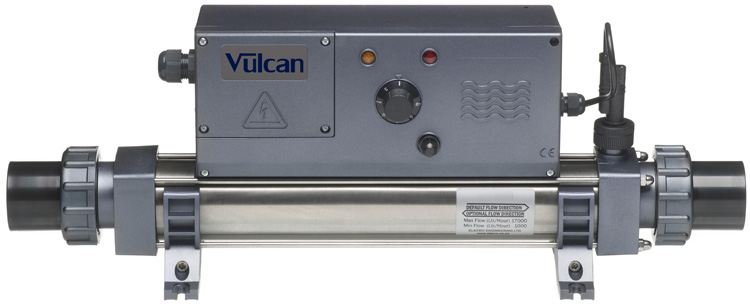 Dimensions for 'L' = 592mm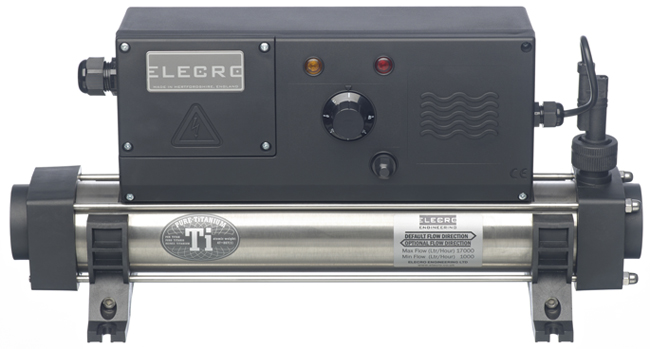 Dimensions for 'L' = 462mm
To buy an Elecro Vulcan Analogue Swimming Pool Heater head to our sister site click here

Specifications:
Well designed & built in Britain
Fully Equipped
Installed easily
Titanium or Incoloy 825 heating elements
316 Stainless Steel flow tube
Ultra-reliable flow switch allows safe operation as low as 1m³/hour
Can be fitted to a floor or wall
Control thermostat 0-40°C (1°C differential)
Safety thermal cut our 60°C (manual reset)
1½" BSP female threaded water connections
Dimensions 'L' is described under each image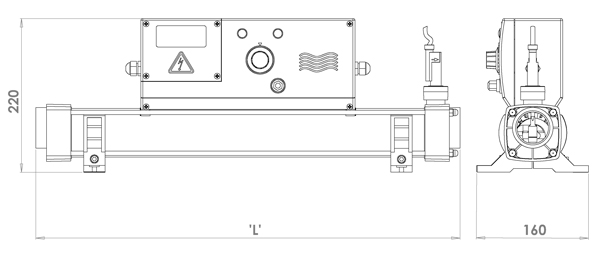 Vulcan Elecro Digital Pool Heater
Vulcan Elecro digital pool heaters benefit from the same specifications that make the analogue model so fantastic, but with the added efficiency of an accommodating digital display.

Featuring indicator lights, an LCD display and a keypad with which to input your desired swimming pool temperature, the Elecro digital pool heater provides easily achievable accuracy.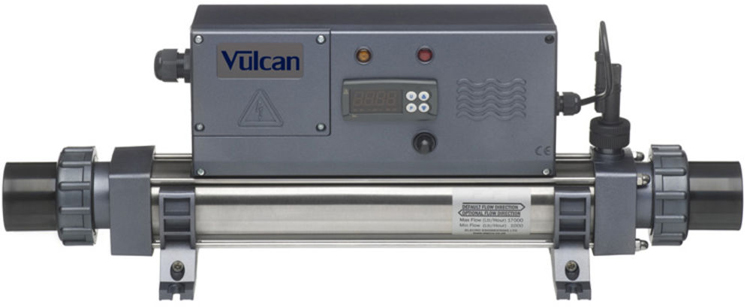 To buy an Elecro Vulcan Digital Swimming Pool Heater head to our sister site click here
Elecro Vulcan Analogue Plug & Play Swimming Pool Heater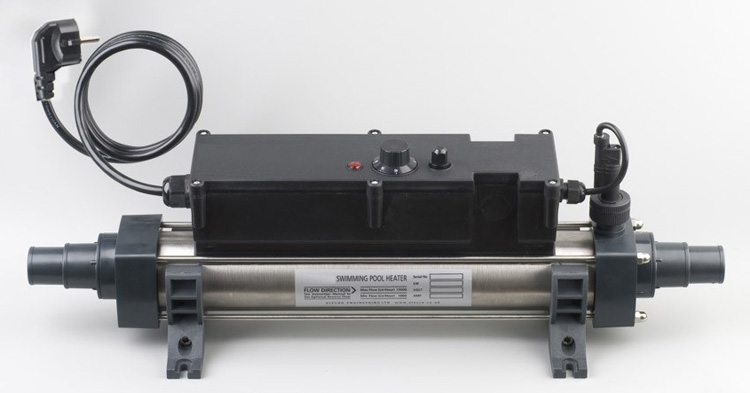 Specifications
Power Supply: 230v single phase
Flow Requirements: Minimum flow:- 1m³/h
Maximum flow:- 17m³/h
Heating Elements: Incoloy 825
Flow Tubes: BS 316 Stainless Steel
Control Thermostat: 0>40°C (1°C differential)
Safety Thermal Cut Out: 55°C (manual Reset)
Flow Switch: Gold tipped reed switch with titanium fulcrum pin
Wiring: High Temperature, Silicone sheathed, multi-strand copper conductors
Seals: Special formula high temperature polymer
Water connections: 1.5 inch BSP female thread
Working pressure: 4 Barg maximum
Mounting: Floor or wall mounting
Standards Compliance: European Electromagnetic Compatibility directive 89/336/EEC and 93/068/EEC
Harmonised: EN55014 - EN55104, EN5501, EN5502, CEI801-4, CEI801-2, CEI801-3, the European low voltage directive 72/23EEC, the harmonised standard EN60335-2-35
VUL803PB Elecro Vulcan 3kW Swimming Pool Heater Single Phase Analogue Pool Heater With Titanium Elements

How an electric swimming pool heater works